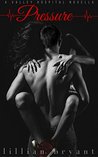 Pressure
by
Lillian Bryant
My rating:
5 of 5 stars
December 21- 21
When Bailey Evans walked into my ER, I had no idea that my perfectly ordered world was about to fall off its axis.
She was the chaos I never wanted.
When Dr. Cole Larkin's eyes found mine, that night in the small exam room, I had no idea that the walls I'd built to protect my heart, would come crumbling down.
He was a craving I should never fulfill.
But when the temptation is too much to handle…
Succumbing to it… might be the only way they can withstand the pressure...
Review - This book was a cute contemporary it's about Bailey and Cole when Bailey comes into the hospital cause she sliced her leg Cole ends up checking her out and becomes obsessed with her the next time they see each other Cole ends up kissing Bailey and they have this hot make out session until Cole says it was a mistake . But then he finds her number and texts her and he ends up showing up at her apartment and they hook up very intensely oh god. so after dating for awhile it gets bad when Cole gets distracted and one of his patients almost dies and he breaks up with Bailey oh god what an Idiot I really liked this story and Cole and Bailey but when Bailey get sick and a EMT checks to see she's alright she gets a text from Cole and he stops by they get back together it was cute and a little drama but I liked it a lot .
Quotes- My fingers tail along her inner thighs , and my thumb dips just under the seem of her black lace panties . " Do you always wear these , or just for me ?
I have to disagree .As a doctor , I prevented death .
View all my reviews